Open Daily 8am-6pm | (530) 582-0909 |
[email protected]
| 11400 Donner Pass Road, Truckee, CA 96161
Login
Log in if you have an account
Register
Having an account with us will allow you to check out faster in the future, store multiple addresses, view and track your orders in your account, and more.
Create an account
Eagle Lake Buttress (Sample)
01 Aug 2022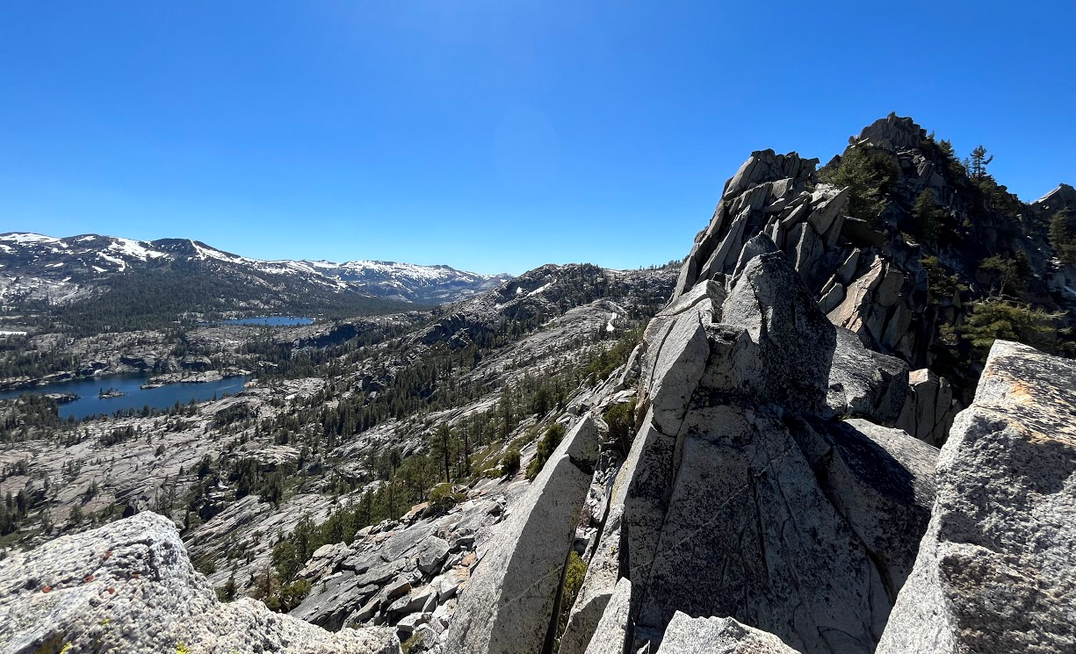 Description
Eagle Lake Buttress is a prominent feature that sits atop the south end of a ridge about a mile west of Eagle Lake. The summit boasts 360-degree views of Phipps Peak, Eagle Lake, and Emerald Bay.
This buttress boasts a variety of climbs ranging from 5th class to 5.10b, none of which are longer than three pitches. The majority of the routes can be descended via a relatively easy walk-off, which makes Eagle Lake Buttress a great place to get in laps on various routes. The buttress also can be a great outing for newer trad leaders given the following: there is ample opportunity to place protection, the route-finding is not too challenging, and the anchors are relatively straightforward to build.
Approach

 

Hike eagle lake trail to eagle lake and cross the outlet. hike along the shore until you are forced up to the right to the base of a big gully with large, solid blocks. stay to the right of the gully for the best climbing and top out on a benched area with views of Velma Lakes. Continue across this flat bench, then go up just before a large pine tree through some brush up slabs and through several large boulders on the ridge. From here, traverse across to your selected climb.

 

Descent

 

From the summit, there are two options: (1) Rap off a slung chockstone down to the ground. From here, pick your way down to the base of the buttress via easy terrain off to the right. (2) Down-climb 15 feet in a chimney feature with solid holds on a large, thin flake which is at the top of the mountaineer's route. then go up a 8 foot tall flake/boulder and top out on a slanted ledge. scramble down to a saddle, then go left and follow cairns down and right towards Velma Lakes. Then contour left back to the base. You do not go down the steeper section to the left. No need to downclimb any 4th class.
Interactive map of the area below:
Our Trip / 6.24.22
We started our approach around 11am and didn't run into any particularly challenging obstacles along the way. The starting segment of trail that takes you to Eagle Lake is heavily worn and well-marked, which let us move fairly quickly up to the lake. Eagle Lake makes for a splendid spot to take a moment to splash your face with cool water, or even to filter more water into your bottle(s) for the remainder of the day. From here, we moved up into the gully and started picking our way up through the large boulders, heading for the ridge above that the buttress sits on. As we moved upwards we hugged the wall to our right, up until we became even with some low-angle slabs to the left. At this point an overgrown trail through manzanita (brush) gave us the option to cut across to the slabs for an easier path to the ridge. Once we topped out the gully, we turned
to our right and followed the path of least resistance up to the base of Eagle Lake Buttress.
View of the buttress from the end of our approach. Early summer in the Sierra meant there were small patches of snow, and a wonderful array of wildflowers.
We had a fairly large party and most of us wanted to climb different routes, so we ended up splitting into two teams.
My partner and I climbed Orange Sunshine [5.9 / Trad / 3 pitches], and the other team headed up Eagle Route [5.6 / Trad / 3 pitches].
Orange Sunshine's first pitch is also the first of Orange Book; its name stands as a great visual description.
Pitch 1: Starts off as a bit of a scramble until you gain a left-facing corner, in the middle of an orange 'book'. This pitch goes at 5.7 and ends up at an obvious ledge that makes for a great belay stance.
Pitch 2: A 5.9 crack that starts up under a small roof and ends with a crux-y mantle. From here, you get to enjoy the splitter hand crack in all its glory up until you top the crack out. At this point it sets you up best for P3 to build a belay just as you round the corner.
Pitch 3: Largely a scramble amongst huge blocks, which spits you out onto a slab that can simply be walked. From here you find a variety of short cracks that lead up to the summit; choose your adventure and enjoy the luxury of a bolted anchor up top.
Descent: We chose to rap off the chockstone with our 70m rope, which was more than enough to get down. Afterwards we weaved our way through gullies off to the right to get down, then headed back left to the base of the route.
Overall, everybody had a great time romping up Eagle Lake Buttress. The conditions were perfect and we finished with ample time to make a leisurely descent back to our vehicles in the daylight.
Leave a comment